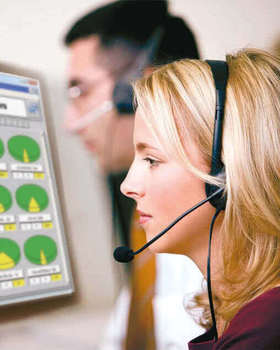 Minutes matter when business-critical systems go down. But even knowing there is a problem can take hours without constant oversight. You can't afford for your critical systems to go down and you can't waste time recovering your IT infrastructure after a disruption. LIFE Services provides continuous monitoring and data analysis by remote system engineers. Armed with this real-time information, our technicians quickly, accurately, and safely restore equipment to its proper operating condition.
LIFE Services goes beyond remote monitoring. Remote system engineers monitor, analyze, and respond to critical system alarms, status messages, and operating anomalies in your critical facilities around the clock. These experts receive specialized training and have access to extensive tools to aid in optimizing the health of critical systems. The end result is increased uptime and operating efficiency.
More information   Manufacturer's Website
Monitor
The technology behind LIFE™ Services is always providing continuous monitoring of over 150 unique parameters within each critical infrastructure device.
At defined intervals, or at the activation of a critical alarm, the device will communicate to a remote system engineer and provide a status report, allowing immediate corrective action.
Diagnose
Through comprehensive data collection and analysis, LIFE™ Services becomes the foundation of an integrated service offering. Its power quality analysis provides detailed information on the cause of particular alarm conditions, identifies potential future problems, and provides information on performance trends for better infrastructure management.
Support
LIFE™ Services provides real-time monitoring of your systems, 365 days a year. Our experts receive the same information that a technician standing in front of your equipment would receive from a service-level application. These remote system engineers are always on hand to provide effective and dynamic local service to meet your diverse needs. Through our global support network, monitoring combined with remote service delivery is available for all types and sizes of data centers located anywhere in the world.
Service Solution
In the event of an emergency condition, Vertiv's remote system engineers receive an emergency report for assessment. They perform an initial analysis to determine the appropriate course of action. Utilizing our comprehensive online knowledge-base and data received as part of LIFE™ Services, our engineers will develop a series of possible solutions, leading to the efficient identification and resolution of all possible operating anomalies. A remote system engineer will contact you to establish an appropriate course of action, and if necessary, a service technician will be dispatched to complete an emergency on-site visit. This service solution eliminates the need to investigate non-critical nuisance alarms and allows you to focus on more important issues.
Report
LIFE™ Services provides regular operational status reports as a comprehensive demonstration that your power management systems are operating successfully and that they have continuous remote monitoring. The regular reports are supplied to you via post or e-mail and contain a summary of all alarm events, along with their frequency and duration, for the entire monitoring period.