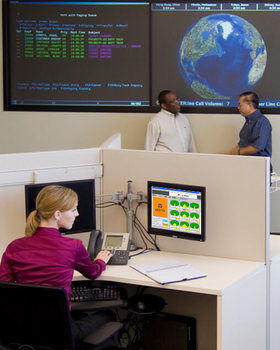 Approximately 37 percent of all UPS system failures are battery related. The best way to offset the risk of UPS failure is to implement an integrated service plan. Having this type of plan that uses secure communication technology allows for ongoing remote monitoring of UPS and battery health.
Continuous connectivity with the industry's largest service team allows for real-time response to UPS and battery events. Vertiv's experts analyze and track UPS and battery performance around the clock. The information gathered allows you to optimize the service life of your critical assets. Plus, notification services and customized escalation plans ensure timely problem resolution for maximum uptime.
More information   Manufacturer's Website
Project
When launching new facilities or powering up new equipment, having industry experience and best-practice knowledge on your side helps you do it right—right from the start.
Project management
Deployment and startup
Commissioning
Maintenance
Regular predictive and preventive maintenance protects your investment in critical assets and helps ensure business-critical infrastructure operates efficiently, safely and reliably.
Emergency response
Preventive maintenance
Remote services
Spare parts and parts management
Performance
Identifying vulnerabilities or opportunities to optimize the performance of aging infrastructure allows you to lower costs and maximize availability.
Assessment and optimization
Upgrades and replacements
Electrical engineering
Safety and compliance