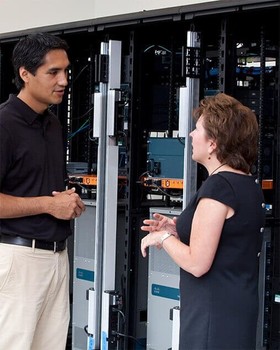 Managing your small, remote, or dispersed mission-critical IT sites is a major challenge. While outages are not an option, neither is sacrificing your busy IT staff to set up and maintain UPS systems. Vertiv's Power Assurance Package delivers convenient and cost-effective support for power delivery to your small IT sites.
Worry-free protection for your network power requirements is possible when you combine the best UPS systems in the business with a five-year protection plan and the industry's premier service capability. Vertiv's Power Assurance Package is much more than an extended warranty for UPS systems. It puts your power in the hands of our experienced team of factory-authorized technicians from day one to ensure your network availability.
More information   Manufacturer's Website
Five-Year Comprehensive Protection Plan
The Power Assurance Package provides 100% labor and travel coverage, and 100% parts coverage for maintenance, repair and replacement for a full five years, including internal batteries, Web card, and other key components. With this level of protection, you avoid unexpected downtime costs and gain network availability.
Installation and Startup
Factory-authorized Vertiv™ technicians handle UPS startup at the location along with rack installation for GXT and PSI systems (optional for APS). Customers enjoy the convenience and peace of mind that comes from having the experts do the job, and IT staff is free to attend to other tasks.
Removal and Disposal of Existing Equipment
With this Power Assurance Package option, technicians will remove and dispose of an old UPS unit of comparable make or model while following all regulatory requirements. This task is handled when visiting to install and startup the new UPS system.
On-site Support and Emergency Response
Vertiv's experienced team of technicians offers the industry's premier service capability for maintaining and supporting a UPS system. As part of the Power Assurance Package for 5-20 kVA UPS systems, technicians perform a preventive maintenance visit any time after the second year of coverage to help ensure continuous trouble-free operation.
Should a problem ever arise with the system, customers have 24/7 access to Vertiv's Customer Resolution Center. They can count on quick recognition by support personnel as well as priority status during emergencies including guaranteed on-site emergency response.
Comprehensive Reports
Vertiv provides on-demand access to service histories and reports via the Customer Services Network portal. With this vital information at your fingertips, you will always know the status of your power system, and will have the information needed to simplify inventory tracking and financial planning.
LIFE™ Services
LIFE Services provides increased uptime and operational efficiency through continuous monitoring, expert analysis, and proactive response to help you optimize the health of your critical systems and have peace of mind.
Manuals
Technical Specs
Resources