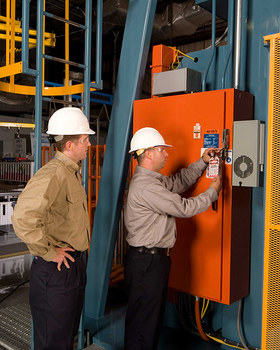 Inherent dangers exist with the operation, maintenance, and repair of electrical equipment. Electrical hazards such as arc flash and arc blast can result in serious injury or death to electrical workers. With proper safety training, your employees are prepared to protect themselves, their co-workers, and your critical infrastructure.
Ensuring the safety of your workers and meeting the challenges of the latest arc flash safety requirements is a difficult task without assistance from qualified resources. Vertiv's experts have extensive experience with recommended practices and industry standards such as the National Fire Protection Association's Electrical Safety in the Workplace (NFPA 70E). Having delivered hundreds of on- and off-site training courses annually, you can trust that we will provide the education your team needs to become "qualified" electrical workers in accordance with 70E requirements.
More information   Manufacturer's Website
Facility-Specific Training
This 16-hour training program can be adapted to a company's facility or site. The proper operation and maintenance of major components will be presented using specific equipment manufacturer's instructions whenever possible. In the absence of manufacturer's instructions, the applicable maintenance and testing recommended by the InterNational Electrical Testing Association (ANSI/NETA MTS) or NFPA 70B Recommended Practice for Electrical Equipment Maintenance will be utilized.
Site- and equipment-specific safety hazards and mitigation techniques will be covered. The training will utilize both lecture and hands-on demonstrations to provide the greatest possible exposure to power distribution system safety, operations, and maintenance requirements.
Article 110 Electrical: Safety-Related Work Practices
Premise
Electric shock
Arc and blast
Application of safety-related work practices
General requirements for safety-related work practices
Establishing an electrically safe work condition
Work involving electrical hazards
Selection and use of proper personal protective equipment (PPE) for shock and arc flash protection
Portable tools and equipment
Personal safety and protective equipment
Article 205 General: Maintenance Requirements
Single-line diagrams
Switchboards
Switchgear assemblies
Panelboards
Motor control centers
Disconnect switches
Bus, cable and wiring
Fuses
Circuit breakers
Rotating equipment Training is optional on the following equipment based on customer needs:
Automatic transfer switches
Uninterruptible power supplies
Hazardous locations
Batteries and battery rooms
Brochures
Manuals
Technical Specs
Resources